Manifesting and Abundance
Total Seminar Amount: 1290.00 BRL
Deposit Amount: 0.00 BRL
Seminar Amount: 1290.00 BRL
Location
Brazil

This seminar will be offered online. Details will be provided upon signup.
About Your Instructor
An Independent Certified Practitioner, Instructor
Portuguese
+55 61999469301
Serving the following locations:
Brasília, DF, Brazil
ThetaHealing® Manifesting and Abundance
Duration: 2 Days
In ThetaHealing®, the concept of manifesting is the Belief that it is possible to create something into the physical using the
connection to the Creator of All That Is. Every statement, thought and action is reflected by what we are manifesting in our lives. Every decision is made upon the mirror reflection of what we choose to create. What we think and say have a direct bearing upon whether our manifestations are for our benefit or detriment. If you constantly say that you are poor, you will be. If you constantly say and think that you are financially abundant, you will be. It is of the utmost importance to stay on a positive mind set.
The truth is that we are creating our own reality and it is possible to manifest the best that the world has to offer. But you must first decide what it is you want in your life. Do you have a dream of experiencing the life you want? Many have the dreams, but not the reality despite much searching.
This course uses an amazing questionnaire to assist you to find the many surprising and deeply hidden blocks standing between you and your goals. It shows you how to dig deep to clear them; teaches you about intention and Divine Timing, followed by how to make everything in your life work for you. You are then given all the positive new Feelings you need to establish abundance in your life. Many people attempt to use ThetaHealing® to download complete financial success without first Energy-Testing themselves to find what may be blocking them. In some instances, these people become upset when they do not achieve immediate results. In this seminar you will learn how to clear these possible blocks, how to make a plan, to set your intentions, and follow through on your ideas to achieve your successes. This is not a get-rich-quick manual, but rather a universal tool of self discovery to utilize your potential to become rich in all aspects of your life. The ThetaHealing® Manifesting and Abundance Seminar has the following criteria taught by a certified ThetaHealing® Instructor:
Manifesting Downloads in a Theta State
How blocks on abundance are seldom about money
Exercises to remove your blocks
Exercise: Divine Timing
Exercise:Remembering your Future
Exercise: How to create your future from the Seventh Plane and manifesting in the highest and the best way
Exercise: Bless your money
Seminar Includes: ThetaHeailng Manifesting and Abundance Manual and Manifesting from the 7th Plane Meditation CD.
Additional Class Information
Estou feliz de receber você aqui, seja bem-vindo(a).
Aprenda a esclarecer as crenças que estão impedindo você de manifestar o que deseja em sua vida.
Você pode e deve criar sua própria realidade.
Vamos trabalhar as infinitas possibilidades que o universo nos oferece.
Patrícia Magalhães Borges
Objetivo:
Para o ThetaHealing®, o conceito de manifestar é a consciência de que é possível criar no mundo físico usando a conexão
com O Criador de Tudo o Que É.
O que nós pensamos e dizemos tem uma influência direta em nossas manifestações para nosso benefício ou detrimento.
A verdade é que estamos criando nossa própria realidade todo o tempo e é possível manifestar o melhor que o mundo tem
para oferecer.
Este curso trabalha com um questionário elaborado para te apoiar a encontrar o que impede você de atingir seus objetivos. Aprenderá a limpar e ressignificar estas questões, como fazer um plano, definir suas intenções e seguir suas ideias para
alcançar seus sucessos.
Essa é uma ferramenta universal de autodescoberta para utilizar o seu potencial para se tornar rico em todos os
aspectos da sua vida.
Manifestando downloads em um estado Theta;

Como as crenças na abundância são raramente sobre o dinheiro

Liberar crenças

Tempo Divino

Lembrando o seu futuro

Como criar o seu futuro a partir do Sétimo Plano e manifestar-se no mais alto e melhor caminho

Abençoe seu dinheiro
(Conteúdo Portal Oficial https://brasilthetahealing.com )
*O curso é online, não será gravado e tem práticas. Confira os horários.
*É necessário no mínimo 80% de presença no curso para receber o certificado
Programação:
Aguarde nova agenda!
Das 18:30h às 22:30h com intervalos.
Pré-requisito:
DNA Básico, DNA Avançado e Aprofundando no Digging.
Investimento:
Devido a situação de isolamento social, o Instituto ThetaHealing® nos EUA, criou a possibilidade desse curso ser on-line.
E com isso, eu Patrícia Borges e minha equipe estamos muito agradecidos pela oportunidade de voltarmos a trabalhar
com o propósito de muito amor e auxílio mútuo.
Os atendimentos e cursos de ThetaHealing® são tabelados pelo Instituto THINK. Como trabalhamos com a energia
do Amor Incondicional, esse é um meio de evitar competição e desunião, promovendo a cooperação entre os praticantes.
O que possibilita também, um rápido retorno do investimento.

Valor do curso on-line:
À vista por transferência bancária ou cartão de débito ou crédito: R$ 1.290,00
Em até 18x com juros no cartão de crédito R$ 1.340,00
*Sem taxa de inscrição.
Materiais do Curso:
* Apostila oficial
* Certificado de Conclusão Internacional reconhecido pelo THINK/Thetahealing®
Institute of Knowledge
* Registro no site Oficial www.thetahealing.com
* Práticas em salas privadas e acompanhadas pela instrutora e assistentes.

Durante o curso você precisa estar com seu material.
Tenham caneta e caderno para anotações durante o curso.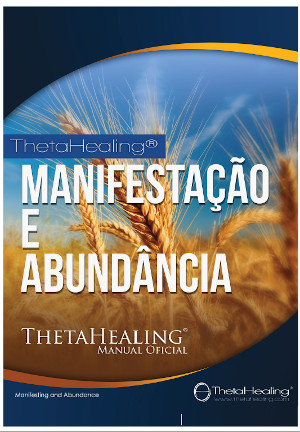 Observações:
* As vagas são limitadas.
* Não haverá reembolso do valor pago, no caso de não comparecimento ou faltas e o crédito será mantido para um próximo curso a ser agendado.
* INDICAÇÕES: a cada pessoa que você indicar, você receberá 5% de desconto no seu curso. Informe as indicações no e-mail de confirmação.
* RECICLAGEM: os alunos que reciclarem o curso, terão 50% de bônus no valor. Esse desconto não se aplica a taxa de inscrição. É possível parcelar a reciclagem em 3 vezes no cartão de crédito. Não inclui livro, apenas apostila caso tenha uma nova versão.
Every ThetaHealing Instructor is Independently Certified. The contact information displayed on this upcoming seminar is provided by the ThetaHealing Instructor listed above. Every Instructor has their own registration and cancellation policy. You can enroll for the seminar through our site, but all payments will be completed to the Instructor listed above through their own system.